India: In search of the Snow Leopard
Species of Interest
Snow Leopard
Wolf
Dhole
Kiang
Bharal
Himalayan Ibex
Tibetan Argali
Ladakh Urial
Long-tailed Marmot
Himalayan Marmot
Royle's Pika
Bearded Vulture
Himalayan Griffon
Upland Buzzard
Golden Eagle
Chukar Partridge
Himalayan Snowcock
Hill Pigeon
Snow Pigeon
Wallcreeper
Red-Billed Chough
Yellow-Billed Chough
Black-throated Thrush
Güldenstädt's Redstart
Brown Dipper
Tibetan Snowfinch
Robin Accentor
Brown Accentor
Red-fronted Serin
Streaked Rosefinch
Perhaps one of the most elusive of the wild felines, the Snow Leopard is a secretive, solitary creature that inhabits expansive, rugged terrain in one of the harshest environments on the planet. Very few people have the chance to observe this animal in the wild – the lucky ones might merely catch glimpses of its shadowy figure as it passes swiftly by on silent feet.
A journey in search of this species requires patience, perseverance, a sense of adventure, and acceptance of what the wilderness has to offer. The shy nature of the Snow Leopard, its perfect camouflage, and the unforgiving terrain, coupled with the relative rarity of these cats, makes the chances of actually seeing a snow leopard, especially in a relatively short period of time, very slim. However, the search in itself and spending time in the harsh beauty of the landscape is an opportunity few people are afforded. The journey alone is a once-in-a-lifetime experience and the intrepid will be rewarded with chances to see a variety of interesting and rare wildlife while surrounded by breath-taking scenery. Additionally, just by participating in the trip, you will be contributing directly to Snow Leopard conservation. Whitehawk donates 25% of its profits from this trip to Snow Leopard Trust, one of the leading organizations dedicated to the conservation of this endangered cat.
Other local land predators that may be seen include wolves, wild dogs and foxes. Aerial predators such as Golden Eagles, sparrowhawks and kestrels may be observed, along with important scavenger species such as Bearded and Himalayan vultures. Other local fauna include the Blue Sheep or Bharal – an important component of the Snow Leopard's diet – Ibex, Kiang or Wild Ass, Long-tailed and Himalayan marmots, Tibetan Hare, and Pika or Mouse Hare. Tibetan and Himalayan Snowcocks and Chukar Partridge can be seen feeding on sun-drenched hills.
Lest we forget, there are also human inhabitants in these rugged mountains. Their culture is steeped in traditional Buddhist practices and this trip will include visits to some of their magnificent monasteries and picturesque villages.
Please note: We have done reconnaissance in the regions mentioned below and after speaking with the locals and the experts we have come up with the following itinerary. Despite our best efforts, seeing a Snow Leopard often depends on your luck, which you'll have to bring along!
Though we will try to follow the itinerary as closely as possible, some flexibility is necessary. We may need to alter our trekking destinations and/or the location of some overnight stays, since we will be following the Snow Leopards' movements. Our itinerary may change depending on the most up-to-date sightings or news from our trackers.
Trip Basics
Tour Leader: Marta Curti
Single Room Suplement: US$450
Length: 12 days
Maximum number of persons per group: 8*
Lodging: Comfortable hotel while in Leh. We'll stay in tented camps while searching for the Snow Leopard.
Food: Good food while in Leh, As most of our days will be spent away from our campsite in order to maximize our time looking for the snow leopard, our lunch will be brought to the field, which will include a hot casserole, with a warm flask with soups and a stove for heating.
Weather: As we are going to be in the Himalayas in winter, very low temperatures and snow are expected.
Difficulty: Medium-high. We might have to hike for hours, sometimes in harsh terrain and cold weather.
* With smaller groups, an additional fee will be charged.
Notes and Recommendations for the trip
Itinerary
DAY 1: LEH
Early this morning after a quick cup of tea/coffee you will be taken to the airport for your flight to Leh. This one-hour flight from the Indian capital to Ladakh's capital, and the stunning aerial views of the Himalayas, will be something you will likely remember for the rest of your life.  Assistance on arrival and transfer to your hotel. There will be no planned activity on this day. It is important to relax and undergo as little exertion as possible. This will help you get acclimatized to the rarefied oxygen levels in this high-altitude region of the high Himalayan plateau.
Overnight at the hotel in Leh.
---
DAY 2: HEMIS MONASTERY
After a leisurely breakfast, we drive to Hemis Monastery, situated 45 kilometers west of Leh, after passing through the Chortens and Mani walls to enter the complex through the East Gate.  Hemis is the largest and wealthiest monastery in Ladakh. From Hemis, we will return on the same route, taking time to visit the Thiksey Monastery, located on a hill-lock with formidable views of the Indus Valley. Thiksey is especially noteworthy for its gigantic seated statue of the Maitreya and is also known for its Dukhang, assembly hall, which houses hundreds of rectangular prayer books, stacked between wooden covers and bound in silk. After that we continue our drive through a series of chortens to Shey Palace, the former summer palace of the King of Ladakh.
Overnight at the hotel in Leh.
---
DAY 3, 4, 5: HEMIS NATIONAL PARK
After breakfast, we will drive to  the entrance of  Hemis National Park – one of India's largest national parks and an important refuge for the snow leopard.  Upon our arrival, we will be met by our support staff, which includes our cook and his assistant, the camp manager, and our trackers.
After getting dropped off, we will continue on foot.  Horses will be available to help carry our luggage. We will cross some small bridges,and frozen streams before we finally reach our base camp just below Hozing Valley. The base camp is marked with Buddhist flags and is nestled beside a small stream. This is a very rustic campsite. No showers are available and bathroom facilities  consist of two outhouses. However, this is the best that is available around the valley.
After a short rest and a hearty lunch, we will begin exploring the surrounding area, in search of Snow Leopards and other local wildlife. Hozing Valley is a very interesting spot with good potential for spotting the snow leopard. The valley offers good winter grazing for Blue Sheep, also known as Bharal – a delicacy for our cat!  Additionally spring waters run through here almost all winter, while other stream waters elsewhere are frozen. Finally, the valley provides the snow leopard with a good degree of camouflage with its rocky, stark jagged mountains.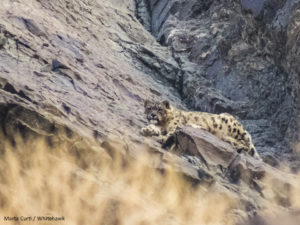 Our lunches: Since most of our days will be spent away from our campsite in order to maximize our time looking for the Snow Leopard, hot lunches will be brought to us the field.
Overnight will be in tented camps.
---
DAY 6, 7: RUMBAK VALLEY
Today, after an early breakfast and packing up the items you will need for two overnight home stays, we will begin our hike to another valley which is known for various leopard sightings, but of course, it all depends on our luck!  We are planning to enjoy two nights on home-stays in small villages in the Rumbak valley. Here, we will experience a bit more of the local culture by staying and eating with local families. These homestays also help support the local economy, which in turn helps conserve the Snow Leopard and other wildlife.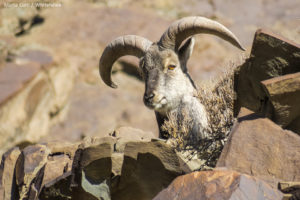 ---
DAY 8, 9, 10: HOZING VALLEY
After breakfast, we will begin our walk to return to our base camp. From here we'll explore other areas around camp that are well known for Snow Leopard sightings.
---
DAY 11: ZINGCHAN VILLAGE to LEH
Today, we will have the option to make an additional visit in search of the elusive cat before we depart. After packing up your personal items, camp staff will take care of the rest. We will begin walking towards Zingchan Village, a two house town along the Indus river. Here we will have our vehicles waiting to pick us up to take us back to Leh.
Once in Leh, if time permits, you will have the opportunity to tour through the ancient bazaar and alleys of Leh Town, where locally made crafts including natural soaps, jewelry, silk scarves, incense, Tibetan singing bowls, etc. can be found. There may be a chance to visit the Sankar Monastery and wrap up the day's program with a visit to Shanti Stupa or Peace Pagoda. Built on a hillock, it provides a spectacular and panoramic view of the Indus Valley - a perfect place from which to watch the sun set.
Overnight in Leh.
---
DAY 12: DEPARTURE
Today you will be woken up early in the morning, after  breakfast, you will be driven to the airport to connect with your flight to New Delhi. This will be your last opportunity to catch the spectacular views of the Himalayan ranges before heading home.
Continue reading the second column →