Discover India: Birding and Tiger Safari

16 to 31 March, 2019
Species of Interest
Rhesus Macaque
Southern Plains Gray Langur
Indian Jackal
Jungle Cat
Bengal Tiger
Indian Leopard
Spotted Deer
Sambar Deer
Nilgai
Gray Francolin
Painted Spurfowl
Indian Peafowl
Indian Pond Heron
Indian Vulture
Red-headed Vulture
White-rumped Vulture
White-eyed Buzzard
Oriental Honey Buzzard
Crested Serpent Eagle
Steppe Eagle
Changeable Hawk-eagle
Bronze-winged Jacana
Red-wattled Lapwing
Yellow-footed Green Pigeon
Rose-ringed Parakeet
Plum-headed Parakeet
Sirkeer Cuckoo
Greater Coucal
Indian Scops Owl
Spotted Owlet
Brown Fish Owl
Crested Treeswift
Indian Roller
Stork-billed Kingfisher
Green Bee-eater
Malabar Pied Hornbill
Coppersmith Barbet
Brown-capped Pygmy Woodpecker
Lesser Goldenback Woodpecker
Indian Pitta
Greater Racket-tailed Drongo
Black Drongo
White-browed Fantail
Black-naped Monarch
Rufous Treepie
Red-vented Bulbul
Jungle Babbler
Orange-headed Thrush
Oriental Magpie Robin
Indian Robin
Red-breasted Flycatcher
Tickell's Blue Flycatcher
Purple Sunbird
Crested Bunting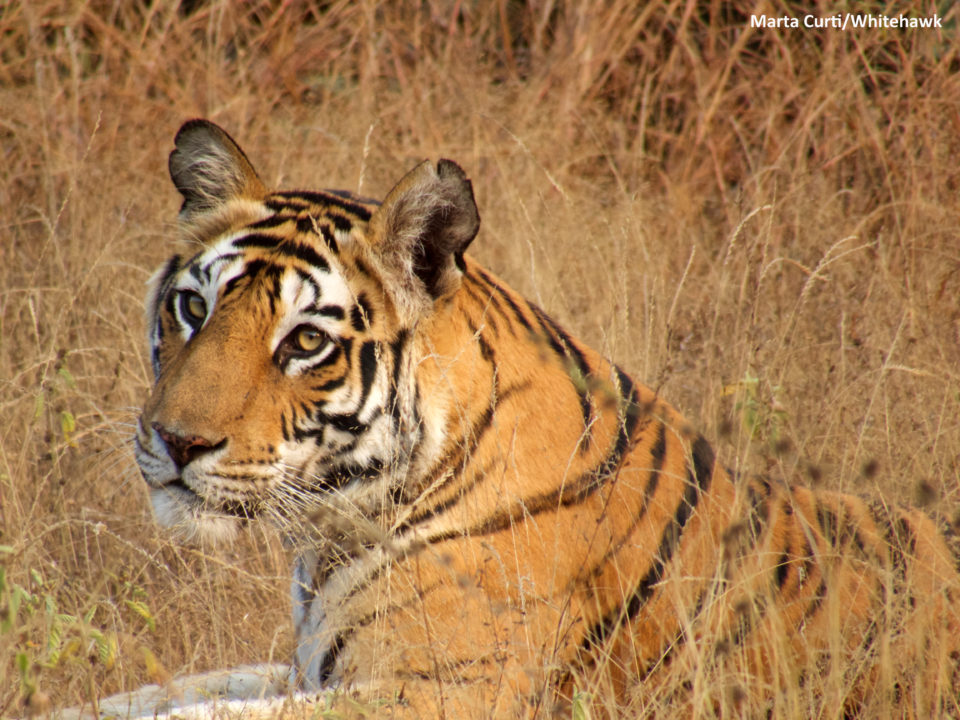 India is the seventh largest country in the world. Its history, culture and cuisine lure travelers from all around the world - making it one of the top destinations for tourism. Though often overlooked, its abundant wildlife and beautiful landscapes also offer some amazing nature experiences for the intrepid traveler. From the high, cold peaks of the Himalayas, to the dense tropical forests of the northeast, India is a virtual mosaic of unique and wondrous habitats.  It is considered a "mega diverse" country and is home to more than 13% of the world's avian species and more than 8% of its mammals.
Throughout most of our birding and tiger safari we will be exploring dry, deciduous forest, riparian and meadow landscapes as we venture into India's wilderness in search of some of the subcontinent's most unique and iconic wildlife, including some of the more than 1,300 bird species recorded for the country.
However, our main target for this tour is one of the most majestic animals in the world -  the Bengal Tiger.  
Trip Basics
Length: 16 days
Maximum number of participants: 8*
Single Supplement: US$750
Lodging: Nice (3-4 star) comfortable hotels.
Food: Excellent Indian cuisine throughout the trip.
Weather: Cool in the mornings and evenings, and very hot at mid-day
Difficulty: Low - medium. Occasional short walks on mostly level surfaces. Most of our wildlife watching will be done from jeeps traveling over dirt roads, and some days will include extended travel time.
* With smaller groups, an additional fee will be charged.
Itinerary
DAY 1: NEW DELHI
Welcome to India! Today, you will arrive at the Indira Gandhi International Airport. We will pick you up and transfer you the hotel. If time permits, we can do some light birding on the grounds around the hotel. Orientation and dinner.
---
DAY 2: NEW DELHI to RANTHAMBORE
After breakfast we will say goodbye to the hustle and bustle of New Delhi as we embark on our first adventure - a 5-hour. train ride through the countryside of India. We will take an air-conditioned sleeper class day train to Sawai Madhopur and then transfer to the resort, about a 10 minute drive. After check-in, we will enjoy a scrumptious lunch and a short rest before our afternoon jeep safari to the Ranthambore National Park in open vehicles.
---
DAY 3, 4: RANTHAMBHORE
Over the next two days, we will be guided through the national park in open vehicles. Ranthambore is considered to be one of the best places in the world to see Bengal Tigers in the wild. Its dry deciduous forest landscape coupled with open plains also provides important habitat for Wild Boar, Sloth Bear, and Striped Hyena, among other mammal species. It is also home to over 300 bird species including Gray Francolin, Indian Peafowl,  Brown-capped Pygmy Woodpecker, Coppersmith Barbet, Green Bee-eater, Rose-ringed Parakeet, Spotted Owlet, Rufous Treepie, Red-vented Bulbul, and Crested Bunting.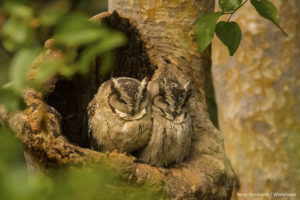 ---
DAY 5: RANTHAMBORE to NEW DELHI
This will be our last morning in Ranthambore. After a morning  jeep drive into the park we will head back to the train station for our train ride back to New Delhi. We should arrive to New Delhi station at 1845 hrs and transfer to hotel.
---
DAY 6: NEW DELHI to BANDHAVGARH
After a hearty breakfast at the hotel we will transfer to the airport for our local flight to Jabalpur. From there, will travel in car to Bandhavgarh National Park which is approximately 200 kms/3-4 hours journey. During our drive we will enjoy the beautiful countryside and get a small taste of the culture as we pass by small villages and markets en route. We will have lunch at our hotel before embarking on our first afternoon jeep safari into the national park.
---
DAY 7, 8: BANDHAVGARH
We will enjoy two more full days (morning and afternoon jeep safaris) in this amazing park. Bandhavgarh has one of the highest known densities of tiger populations in India. Apart from Bengal Tiger, there is a large population of Indian Leopard, and a chance to see some of the other 37 mammal species recorded here, such as Rhesus Macaque, Southern Plains Gray Langur, Indian Jackal, Jungle Cat, Spotted Deer, and Sambar Deer. The park is also home to over 250 bird species including Plum-headed Parakeet, Indian Gray Hornbill, Greater Coucal, Indian Roller, Indian Robin, Sirkeer Cuckoo, Greater Racket-tailed Drongo, Crested Serpent Eagle, White-rumped Vulture, Lesser Goldenback Woodpecker and Purple Sunbird.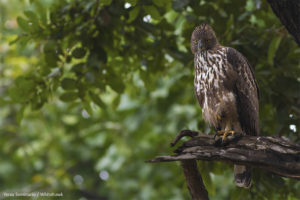 ---
DAY 9: BANDHAVGARH to KANHA
On our last morning in Bandhavgarh, we will have an opportunity to enjoy one more game drive through the park.  In the early afternoon, we will travel to Kanha, approximately 280kms, a 5-6 hours journey. We will check into our hotel, feast on a delicious dinner and enjoy a relaxing evening.
---
DAY 10, 11: KANHA TIGER RESERVE
We will enjoy two more full days in India's largest national park. Combining lowland and highland forests with wide open meadows, this park is rich is flora and fauna.  Bengal Tiger, Swamp Deer, Four-horned Antelope and Indian Wild Dog are just a few of the mammal species we hope to find here. Around 300 birds species have been recorded here, with some of the more common species being Blossom-headed Parakeets, Indian Pond Heron, Red-wattled Lapwing, Steppe Eagle, Tickell's Blue Flycatcher, White-eyed Buzzard, White-breasted Kingfisher, and White-browed Fantail. If we are lucky, we may even spot a reptile or two.
---
DAY 12: KANHA to TADOBA
Today will be our longest travel day as we make our way to Tadoba - which is approximately 380 km (8 hrs) drive away. During our drive we will make strategic stops to stretch our legs and take in the sights.
---
DAY 13, 14: TADOBA NATIONAL PARK
We will enjoy two more full days in this park, which is composed mainly of dry deciduous forest and dense woodlands. Home to over 80 Bengal Tigers (as of 2016), the park also provides habitat for a number of other mammals including Honey Badger and Small Indian Civet. Just under 200 species of bird species have been recorded here including  Orange-headed Thrush, Indian Pitta, Crested Treeswift, Bronze-winged Jacana and Black-naped Monarch.
---
DAY 15: TADOBA to NEW DELHI
We will participate in our final morning game drive of the tour. After lunch we will drive to Nagpur (100 kms / 2hrs) where we will catch our return flight to  New Delhi, arriving at around 1940 hrs and transfer to hotel. We will enjoy our final dinner together at our hotel and finalize our bird and wildlife observation lists.
---
DAY 16: DEPARTURE
After breakfast, we will transfer you to the Indira Gandhi International Airport for your flight home, or the hotel of your choice within New Delhi, for those remaining in India on their own.
Continue reading the second column →