Costa Rica Birding: Wild Nature

6 to 15 April, 2019
Species of Interest
Slaty-breasted Tinamou
Black-eared Wood-Quail
Crested Guan
Black Guan (RE)
Great Curassow
Black-and-white Hawk-Eagle
Black-collared Hawk
Barred Hawk
Russet-naped Wood-Rail
Uniform Crake
Buff-fronted Quail-Dove (RE)
Purplish-backed Quail-Dove (RE)
Chiriqui Quail-Dove (RE)
Bare-shanked Screech-Owl
Costa Rican Pygmy-Owl (RE)
Unspotted Saw-whet Owl (RE)
Dusky Nightjar (RE)
Green Thorntail
Black-crested Coquette
Talamanca Hummingbird (RE)
Fiery-throated Hummingbird (RE)
White-bellied Mountain-Gem (RE)
Purple-throated Mountain-Gem (RE)
Magenta-throated Woodstar (RE)
Volcano Hummingbird (RE)
Scintillant Hummingbird (RE)
Canivet's (Salvin's) Emerald
Garden Emerald (RE)
Stripe-tailed Hummingbird
Black-bellied Hummingbird (RE)
Coppery-headed Emerald (E)
Mangrove Hummingbird (E)
Resplendent Quetzal
Lattice-tailed Trogon (RE)
Orange-bellied Trogon (RE)
Keel-billed Motmot
Lesson's Motmot
Lanceolated Monklet
White-fronted Nunbird
Red-headed Barbet
Prong-billed Barbet (RE)
Yellow-eared Toucanet
Hoffmann's Woodpecker (RE)
Rufous-winged Woodpecker
Red-fronted Parrotlet (RE)
Sulphur-winged Parakeet (RE)
Crimson-fronted Parakeet (RE)
Streak-crowned Antvireo
Ocellated Antbird
Thicket Antpitta
Ochre-breasted Antpitta
Silvery-fronted Tapaculo (RE)
Buffy Tuftedcheek (RE)
Streak-breasted Trehunter (RE)
Rufous-browed Tyrannulet
Rough-legged Tyrannulet (Zeledon's)
White-throated Spadebill
Dark Pewee (RE)
Black-capped Flycatcher (RE)
Purple-throated Fruitcrow
Bare-necked Umbrellabird (RE)
Three-wattled Bellbird (RE)
Snowy Cotinga
Yellow-winged Vireo (RE)
White-collared Manakin
Azure-hooded Jay
Ochraceous Wren (RE)
Timberline Wren (RE)
Canebrake Wren
American Dipper
Black-faced Solitaire (RE)
Slaty-backed Nightingale-Thrush
Sooty Thrush (RE)
Black-and-yellow Silky-Flycatcher (RE)
Long-tailed Silky-Flycatcher (RE)
Flame-throated Warbler (RE)
Costa Rican Warbler (RE)
Collared Redstart
Passerini's Tanager
Speckled Tanager
Spangle-cheeked Tanager (RE)
Black-and-yellow Tanager (RE)
Slaty Flowerpiercer (RE)
Peg-billed Finch (RE)
Wrenthrush (RE)
Sooty-capped Chlorospingus (RE)
Dusky-faced Tanager
Large-footed Finch (RE)
Cabanis' Ground-Sparrow (E)
Yellow-thighed Finch (RE)
Black-faced Grosbeak
Black-thighed Grosbeak (RE)
Montezuma Oropendola (RE)
Black-cowled Oriole
Golden-browed Chlorophonia (RE)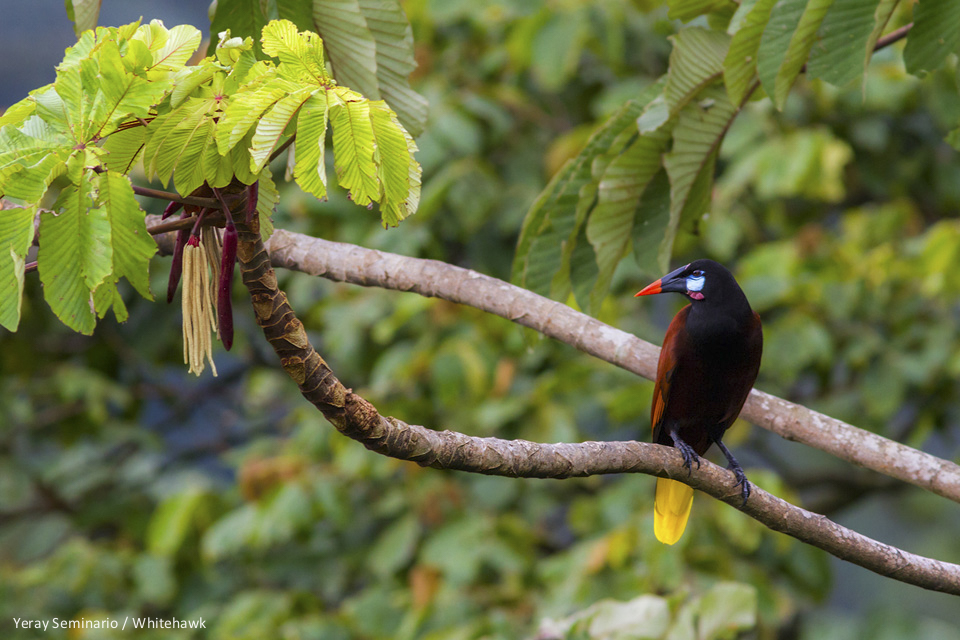 Costa Rica is currently one of the best-known destinations for international nature enthusiasts and with good reason. A good part of the country's economy has successfully focused on ecotourism, and this has attracted good numbers of birders with a list of 900 species - and growing - in a relatively small country. The truth is that  Costa Rica birding has a lot to offer to both beginners and expert birders, as well as nature photographers. One could spend a lifetime in Costa Rica and always find something new.
Our Costa Rica tour covers the widest variety of habitats and offers the most charismatic species. With highly recognized local guides and Whitehawk's known attention to detail, we are sure that everyone will love and treasure this trip in their memories. The cloud forests, grasslands, mangroves and tropical forests are the enchanting landscapes where we will find species like the Resplendent Quetzal, feeding in wild avocado trees, Black Guan, climbing on the moss and epiphytes, the Black-and-white Owl, hooting near our lodge and the Mangrove Hummingbird, an endemic only found in this country.
Trip Basics
Tour Leader: TBD
Length of tour: 10 days
Maximum number of participants: 8*
Single supplement: US$250
Lodging: Nice, clean and comfortable with private bath.
Food: Fresh, traditional cuisine.
Weather: Warm and humid in the lowlands and temperate to cold in the highlands.
Difficulty: Moderate. Medium to long walks at a gentle pace, though some days will require longer walks on steep and/or muddy terrain. Some long drives are required.
* With smaller groups, an additional fee will be charged.
Itinerary
DAY 1: ARRIVAL TO SAN JOSE
Arrival at Juan Santa Maria International Airport in San Jose, and transfer to the hotel. There we will have an orientation meeting before dinner and enjoy the local birds around the hotel grounds.
---
DAY 2: TARCOLES RIVER & GUACALILLO MANGROVE
The best way to start our trip is looking for the recently split Cabanis' Ground-Sparrow, restricted to central Costa Rica, it became a new endemic bird for this country. With some luck and nice views of this pretty sparrow, we will head to the Pacific Coast. On the way, we will explore back roads that provide good habitat for Tropical Dry Forest species, such as Turquoise-browed Motmot, Long-tailed Manakin, Scaly-breasted Hummingbird (endemic subspecies of the Pacific slope of Costa Rica) and the Hoffmann's Woodpecker, a species found only on the Pacific slope of Central America. In the afternoon, we will take a boat trip through the Guacalillo Mangroves and cruise the Tarcoles River. We will surely keep our eyes open for Mangrove Vireo, Mangrove Swallow and Mangrove Cuckoo here, but the jewel we hope to see is the Mangrove Hummingbird, one of Costa Rica's four endemic species.
---
DAY 3: CARARA NATIONAL PARK
Carara National Park is the exact point on which the northwest Tropical Dry Forest and the Pacific Lowland Rainforest meet. We will spend the morning exploring the trails of the park searching for regional endemics including Golden-naped Woodpecker, Baird's Trogon, Black-headed Trogon and Black-hooded Antshrike. The remainder of the day we will be in the surrounding areas of the park where we hope to see great birds such as Scarlet Macaw, Rose-throated Becard and Rufous-breasted Wren, among others.
---
DAY 4: CERRO LODGE – PLAYA EL REY – GENERAL VALLEY
The grounds of the lodge are also a great place for some interesting birds – Yellow-naped Parrot, Cinnamon Hummingbird, Stripe-headed Sparrow and Scrub Euphonia. Our next stop will be Playa El Rey, a rice field and wetland with a good chance for Bare-throated Tiger-Heron, Northern Jacana, White-collared Seedeater and many other aquatic birds. Once in the General Valley, we will explore the ground of the lodge searching for Orange-collared Manakin, Turquoise Cotinga and Cherrie's Tanager.
---
DAY 5: LOS CUSINGOS RESERVE – BOSQUE DEL TOLOMUCO & CERRO DE LA MUERTE
Today we will visit Los Cusingos, the reserve of the famous naturalist Alexander Skutch. Here we will focus on seeking out some more regional endemics such as Tawny-winged Woodcreeper, Fiery-billed Aracari and Spot-crowned Euphonia, among many other beautiful birds. After reaching these targets, we will visit Bosque del Tolomuco, nestled in the foothills, for more fascinating birds including Green-crowned Brilliant, Violet Sabrewing, Speckled Tanager and Silver-throated Tanager. Our last destination for this day will be the higher elevation of the Talamanca – Cerro de la Muerte – looking for some endemic birds of this mountain range like Volcano Junco, Timberline Wren and Fiery-throated Hummingbird.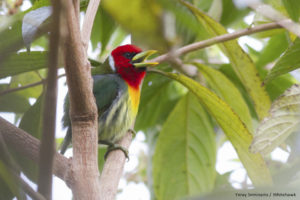 ---
DAY 6: SAVEGRE VALLEY
This will be the day for one of the most representative and beautiful bird of the Central America, the Resplendent Quetzal. We will keep our eyes on the little avocado trees where they love to feed, and if lucky, may find a nest in a tree cavity, as they are nesting this time of the year. Throughout the valley we will also look for Long-tailed Silky-Flycatcher, Flame-throated Warbler, Black-faced Solitaire and Sooty-capped Chlorospingus, among many other specialties in this area. After dinner we will drive up the valley looking for some nocturnal regional endemics, including Dusky Nightjar and Bare-shanked Screech-Owl.
---
DAY 7: HIGHLANDS to UJARRAS VALLEY
Before heading to Ujarras Valley, we will take advantage of being in the highlands to hopefully see any birds that we may be missing. The Ujarras Valley will be our second chance for the Cabanis' Ground-Sparrow. We can also find the Crimson-fronted Parakeet and Green-breasted Mango.
---
DAY 8: COPE ARTE and LA SELVA BIOLOGICAL STATION
Cope Arte is a local birder-artist very well known in the country. We will take the benefit of his knowledge of the local fauna and flora to go into field and find some interesting species like Thicket Antpitta, Lattice-tailed Trogon and Russet-naped Wood-Rail. We will also enjoy the feeders at his place with birds such as Long-billed Hermit, Passerini's Tanager, Bronze-tailed Plumeleteer and Yellow-crowned Euphonia. In the afternoon, we shall use the rest of the day exploring the surroundings of the lodge searching for Chestnut-colored Woodpecker, Olive-throated Parakeet, Black-capped Pygmy-Tyrant and many more.
---
DAY 9: LA SELVA BIOLOGICAL STATION
La Selva is one of the most important research station for tropical studies in the world. A full day birding along the trails of this protected area and surrounding will provide a good number of species for our trip list. Some of the specialties to be found at La Selva are Canebrake Wren, Snowy Cotinga, Stripe-breasted Wren and Black-throated Wren, all Central American endemic birds.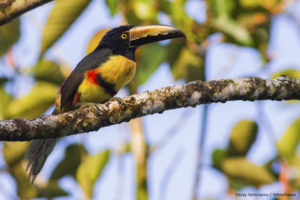 ---
DAY 10: CINCHONA
Early we will make our way to Cinchona area on the Caribbean slopes of the Poas Volcano. This area offers a great variety of middle elevation species, including the Costa Rican endemic Coppery-headed Emerald and other regional endemics such as Black Guan, Prong-billed Barbet, Purple-throated Mountain-gem and Spangle-cheeked Tanager. We will wrap up our tour with these enchanting birds and will continue on our route to the international airport. Tour concludes in San Jose.
Continue reading the second column →